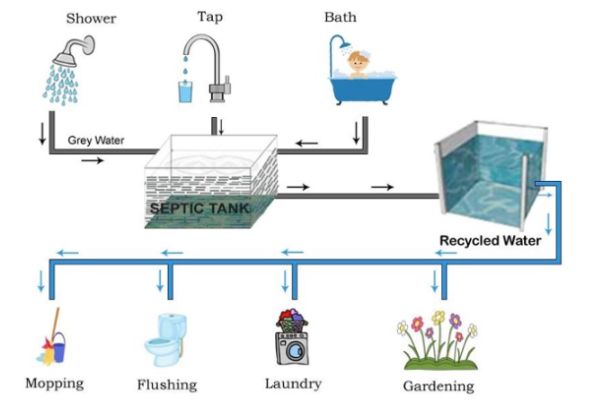 Greywater is gently used water from your bathroom sinks, showers, tubs, and washing machines. It is not water that has come into contact with feces, either from the toilet or from washing diapers.
Greywater may contain traces of dirt, food, grease, hair, and certain household cleaning products. While greywater may look "dirty," it is a safe and even beneficial source of irrigation water in a yard.
Keep in mind that if greywater is released into rivers, lakes, or estuaries, its nutrients become pollutants, but to plants, they are valuable fertilizer. Aside from the obvious benefits of saving water (and money on your water bill), reusing your greywater keeps it out of the sewer or septic system, thereby reducing the chance that it will pollute local water bodies. Reusing greywater for irrigation reconnects urban residents and our backyard gardens to the natural water cycle.
The easiest way to use Greywater is to pipe it directly outside and use it to water ornamental plants or fruit trees. Greywater can also be used to irrigate vegetable plants as long as it doesn't touch edible parts of the plants. In any greywater system, it is essential to use "plant friendly" products, those without lots of salt, boron, or chlorine bleach. The build-up of salts and boron in the soil can damage plants. While you're at it, watch out for your own health: "natural" body products often contain substances toxic to humans
Basic Grey Water Guidelines
Don't store greywater (more than 24 hours). If you store grey water the nutrients in it will start to break down, creating bad odors.
Minimize contact with greywater. Greywater could potentially contain a pathogen if an infected person's feces got into the water, so your system should be designed for the water to soak into the ground and not be available for people or animals to drink.
Infiltrate greywater into the ground, don't allow it to pool up or run off (knowing how well water drains into your soil (or the soil percolation rate of your soil) will help with proper design. Pooling greywater can provide  mosquito breeding grounds, as well as a place for human contact with greywater.
Keep your system as simple as possible, avoid pumps, avoid filters that need upkeep. Simple systems last longer, require less maintenance, require less energy and cost less money.
Install a 3-way valve for easy switching between the greywater system and the sewer/septic.
Match the amount of greywater your plants will receive with their irrigation needs.