Pinning stations is an area in quay side where  Trucks with container drives to the pinning station & pin the twist lock of  the container for vessel Loading operation .And the twist lock of the  container discharged from the vessel placed on truck will be unpinned in the pinning station  before moving towards the designated stack.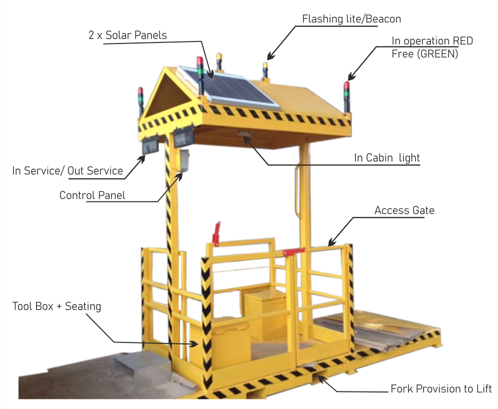 Red and Green Tower Light:
It enables truck drivers to identify which pinning station is in operation and which is vacant from Distance.
Umber Flash Light:
Helps in identification of Pinning station location from Distance.
In Service and Out Service Board (Backlit):
When there is a temporary break in service of any Station, attendant can flash OUT SERVICE Board , so truck drives don't queue on front of that particular Station.
In Cabin Light:
Let Port Attended check the documents / Papers ( If needed be)
This complete system is backed up by Solar Power plant and Li-ion Battery bank. The system is designed to give 18 -24 hours of backup.
4 tower light with RED and Green LED Indicator. (for clean view of truck drivers)
2 x Umber flashing light
1 in cabin light for Paper Check
In Service and Out Service Board with Back Lite LED.
Solar power plant kit to lit up these lights on solar for Min 12 hours.