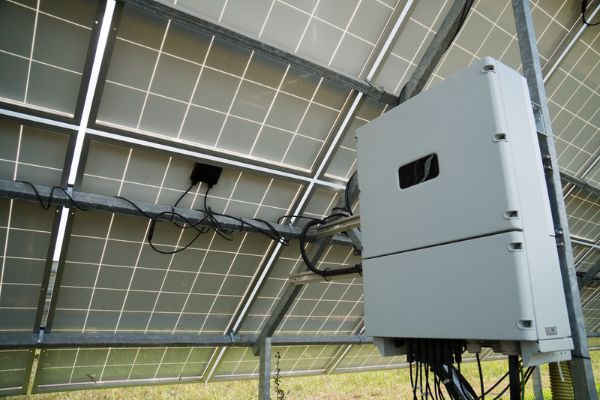 A solar inverter or PV inverter, is a type of electrical converter which converts the variable direct current (DC) output of a photovoltaic (PV) solar panel into a utility frequency alternating current (AC) that can be fed into a commercial electrical grid or used by a local, off-grid electrical network. It is a critical balance of system (BOS)–component in a photovoltaic system, allowing the use of ordinary AC- powered equipment. Solar power inverters have special functions adapted for use with photovoltaic arrays, including maximum power point tracking and anti- islanding protection.
Off Grid Inverters, used in isolated systems where the inverter draws its DC energy from batteries charged by photovoltaic arrays. Many stand-alone inverters also incorporate integral battery chargers to replenish the battery from an AC source, when available. Normally these do not interface in any way with the utility grid, and as such, are not required to have anti-islanding protection.
Grid-tie inverters, which match phase with a utility-supplied sine wave. Grid-tie inverters are designed to shut down automatically upon loss of utility supply, for safety reasons. They do not provide backup power during utility outages.
Intelligent hybrid inverters, manage photovoltaic array, battery storage and utility grid, which are all coupled directly to the unit. These modern all-in-one systems are usually highly versatile and can be used for grid-tie, stand-alone or backup applications but their primary function is self-consumption with the use of storage.